Category Archives: Technical Blog: Resource Library + FAQs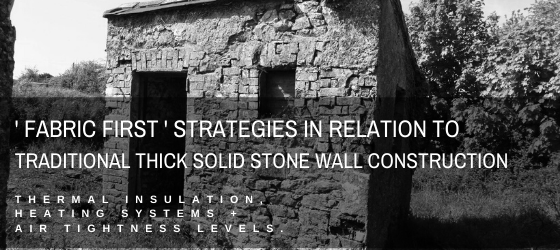 Some ideas + discussions that recently arose with a Client on a Project:
Involving the refurbishment of a traditional Irish Farm House, of existing solid wall construction (typically 600mm thick walls) with a proposed small scale new Front Entrance Lobby Extension.
A discussion from the viewpoint of Thermal Insulation, Heating, Air Tightness + Building Fabric in the context of thick Solid Stone Walls in a Traditional Irish Farmhouse (and also applicable to Cottages, Period Houses, Out Buildings, etc.)
The Project is at Design Stage (Pre-Tender), where options and decisions on construction systems, build ups and specifications will need to be made, so that a co-ordinated set of technical drawings + documents will be ready for issuing for Tender to Building Contractors for pricing.
read more …