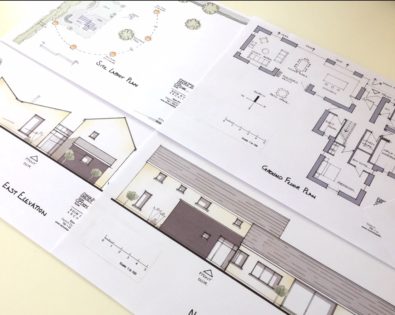 P E O P L E + P L A C E
L I G H T , S P A C E + M A T E R I A L S
The Connection of People + their House to a Site.
Doing things the right way.
Fabric 1st Approach.
Design to make things look right.
Supporting Clients.
Quality of Materials + Construction.
Designing Single Family Homes.
New One Off Houses.
House Extensions.
Alterations, Refurbishment & Re-use.
We aim to create comfortable, healthy, future-proofed buildings to satisfy our Client's requirements, designed to suit each site's aspect, orientation & location.
One of our primary design considerations when siting and designing a house, is to maximise on passive solar gain heating by orientating the house + living spaces to the south, aligning with our low energy design objective.
Our overall design style is inspired by modern buildings, which adopt traditional building forms + proportions, side by side with contemporary design, details + building construction techniques.
If you need some assistance or the advice of an architect with your project or building work in Dungarvan, West Waterford, Fermoy, Midleton, Youghal, East Cork, Clonmel or the surrounding areas then Eoin OKeeffe Architects may be able to help you.
Feel free to contact the office for advice or to organise a consultation.
Eoin O'Keeffe MBA, DIP ARCH, MRIAI.
RIAI Registered Architect, Passive House Designer.
.
What Our Customers Say: